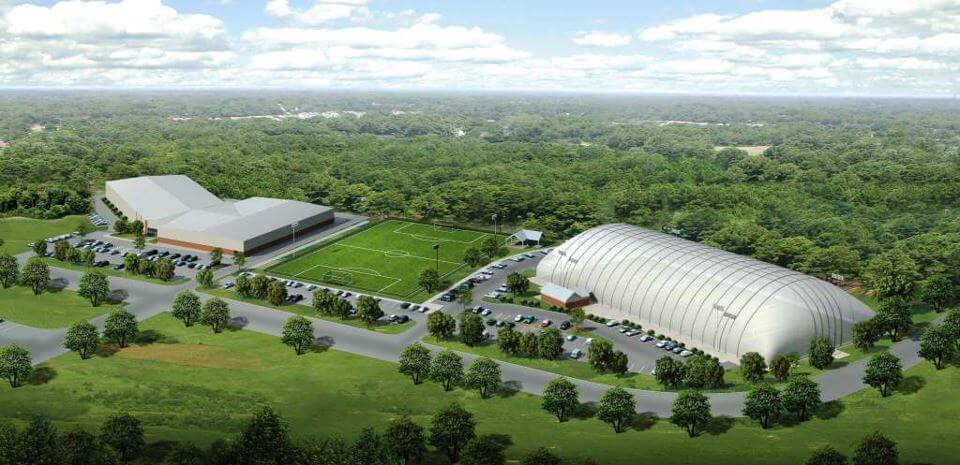 The EDGE Sports Center was only months old when the founders first realized that facility expansion was necessary. Founder Brian DeVellis began negotiations with the abutting landowner, Massachusetts Port Authority, in Spring 2008, leading to Massport releasing a request for Proposals in April 2010. DeVellis responded and was awarded the right to negotiate a 20-year lease with the Authority January 2012. DeVellis designed the expansion of 2 synthetic artificial turf fields along with a fabric dome structure for winter use, making the 2008 existing turf excess and available for a second ice sheet for the ever-expanding hockey program. DeVellis reached lease execution April 2012, regulatory approvals shortly thereafter, as well as design development drawings and construction documents. Construction broke ground in June 2012 and opened January 2013.
In developing Phase II, Mr. DeVellis worked closely with the Town of Bedford Planning, Conservation and Zoning Board of Appeals, the Massachusetts Port Authority as the land owner, the Commonwealth of Massachusetts Department of Building, the US Department of Defense / US Navy as an easement holder on the property, and the
US Federal Aviation Authority as an abutter and overseeing authority of the Hanscom Air Field, with respect to our field lighting and air supported structure, as well as the Commonwealth of Massachusetts Department of Energy for the installation of a 485kW Solar PV Array.